From: Montgomery County Bounty; Glen Ridge & Fonda Working Together
---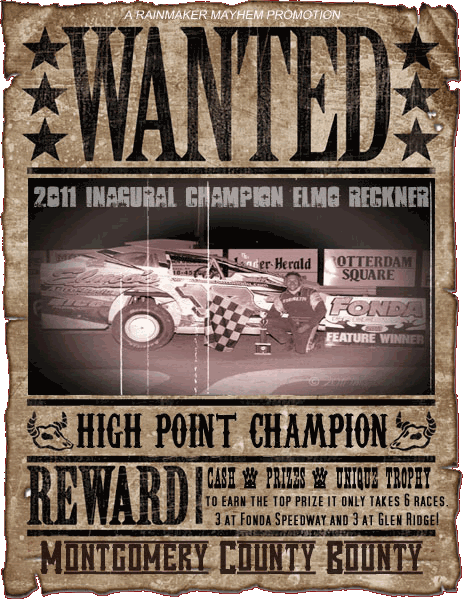 FONDA, NY ~ At the beginning of the season local racing personality and Mayhem Motorsports owner Rob Hazer along with Rainmaker Productions owner Matt Noles started a conversation over their love for the sport and the community they frequent. While Noles grew up in the area and has since moved, he has not forgotten his roots promoting races such as the Lou Lazzaro memorial at Fonda Speedway.
Hazer lives just a mere 10 minutes from both Fonda Speedway and Glen Ridge Motorsports Park. He frequents both speedways weekly and although he enjoys many tracks, these are his home tracks. He has done many things throughout his racing career including media, race directing, series promotion, and co-owning a championship sportsman team with his father Brev Hayes.
During the course of the season an idea spawned out of the Mayhem Motorsports camp by Rob Hazer grew into a more realistic endeavor with the brain storming assistance of Matt Noles and Rainmaker Productions. After a trial run to see how the idea would work, an exciting point battle came down to the final night in which an unsuspected champion would emerge. Mashed together the Montgomery County Bounty series was born and a new brand was put on it, a Rainmaker Mayhem Promotion.
The series dubbed the Montgomery County Bounty has but one rule; score the most points. Home track rules apply when racing Fonda Speedway and Glen Ridge, which nobody is forced to run both. This is merely a series dedicated to promoting the drivers, tracks, and community first and foremost above all else. The point system is simple; 60 points for a win down by 1 point to last place. It proved to make a very close and exciting points race for the 2011 trial.
Rainmaker Mayhem Promotions managed to put together a $500 reward and a one of a kind trophy to keep with both the western theme and the humor the 2 promoters possess. It wasn't expected, as it was just a trial, however it couldn't be ignored and it's time for the speedways that share fans and drivers to also share a champion. The tracks can work together without even a need to sit at the same table.
"I'm excited honestly. I love the sport of racing and the people I see weekly are like extended family. Sometimes you agree, sometimes you don't, but at the end of the day you can agree the drivers put on a show we as fans love to see" said Hazer, series co-founder.
"I want to see the two tracks I go to weekly and support finally work together. Maybe this is a way they can do it without having to see one another eye to eye. Maybe this will be the encouragement they need to finally put their disagreements aside and do what's best for the sport, our community, and the drivers that race here" he continued.
Rainmaker Productions head honcho Matt Noles said, "I think it's a win win situation for both establishments. With a speedway so rich in history like Fonda and a speedway with the nostalgic feeling of Glen Ridge, there is no way a series between the two venues could be a bad thing. To be perfectly honest, it is long overdue."
Noles continued by saying "Whenever something is done for the drivers and the fans, not to mention the community, something positive and productive has to come out of the venture. Where else in the sport can you travel a mere 5 mile distance between two speedways on a weekend with the chance to toss an extra two grand in your pocket for your efforts?"
Noles concluded by saying "To be teamed up with Rob Hazer is one of the best ideas that has come along in quite some time for me. The sport needs young blood for it to survive and continue on for future generations. With the enthusiasm and knowledge that Hazer has, there is little to no doubt that this series will grow over the next few seasons. I have learned that if you do something for the drivers, something to help them out for the better of the sport, they will come regardless of what alliances may or may not exist."
For his 2011 Efforts Elmo Reckner edged out Bobby Varin to win the innaugural title. Winning by a mere 4 points shows how close the system makes it to earn what will become a wanted trohpy by drivers and the Montgomery County Bounty. The series small in size for 2011; Elmo will receive a $500 reward for his efforts and the signature series trophy yet to be named.
In 2012 the Montgomery County Bounty is already worth $2,000 for the modified champion and we're currently working on offering a $1,000 to prize for the sportsman champion. The series would love for the tracks to come on board and work with us to offer some bonus cash for their home track drivers. We have also tossed ideas on how to build the point fund with the simplest of notions such as a year long 50/50 and offering laps for sale so any fan, driver, businesss, crew member, or anyone in between can sponsor a series and wish their driver the best. We're about product endorsement and recognition and not necessarily product placement.
More details on the Montgomery County Bounty to come as the months go by heading into the 2012 racing season. Until then we congratulate Elmo Reckner on becoming our first champion and we hope the race fans will as well. Elmo did nothing but earn this title. A full series points run down and more info can be found at www.speedzoneonline.org and we wish everyone the best of luck for the remainder of the 2011 season. To contact the series with questions or if you wish to participate in any mannor, send e-mails to speed.zone@rocketmail.com and make sure to use the subject title "Montgomery County Bounty" or your inquiry may not receive an answer.
Source: Montgomery County Bounty; Glen Ridge & Fonda Working Together