Friesen Rick's Nats; Super Dirt Cell XL Recap
---
Friesen Rick's Nats
Super Dirt Cell XL Recap
October 2011 Observe & Report Written By Rob Hazer For DTD - Anything with the letters XL in the title deserves a little extra. This time around kids of adult ages we're going to flash back in time to revisit one of the most controversial Super DIRT Week finishes in history. The batmobile once dared the rules, extra fuel line once bent the rules, but Friesen's fuel cell simply defied the rules – by 2.5 gallons. Let's face facts shall we; this is no longer your grandpa's racing scene. Flamboyancy is the new Professionalism; outspoken is the new politically correct; and winning at any cost is the new sportsmanship.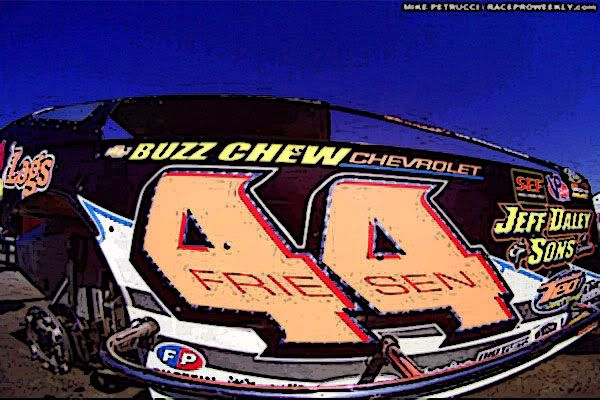 It's a brutal 'one for all and all for me' racing world according to some and while that may be true in certain cases, relax and enhance your calm, for racing isn't dying; it's changing. At Super DIRT Week XL racing at the Moody Mile may have changed for good. Defending Super DIRT Week champion Stewart Friesen is being compared to Barry Bonds in and around the racing scene. While he pulled off a second straight Moody Mile victory the 2011 triumph just may have an XL asterisk next to it in the record books.
While Barry never failed a performance enhancing drug test Stewart Friesen was caught with his fire suit down in post race tech after his historic win. The DIRTcar rule section 15.2 A simply states, "The fuel cell must have a maximum capacity of 24.5 US gallons and must remain in a rectangle and/or square shape for measuring." It's not hard to understand the DIRTcar rule nor is it a "gray" area, as it pretty much states they will check it 2 ways; by how much it holds and by how big it is. Was Stew's cell square? No. Did it hold more than 24.5 gallons? Yes.
Stewart went from an Elvis Presley-like rebel hero to a Johnny Cash-like rebel bad boy in a matter of minutes. He had won the most prestigious race on dirt for big block modifieds with an illegal part. Many onlookers, reporters, and his peers could clearly see the cell was bulged, roundish, and held more fuel than allowable by rule. Those are facts nobody could deny, which left DIRTcar the daunting task of handing down the proper punishment for the infraction. They fined him 25 grand and let the win stand.
There is no question Stewart Friesen raced his tail off. He out-ran Billy Decker, and he crossed the finish line first, but did the extra fuel give him better track position? Did the extra fuel he was able to carry give him more weight over the rear of the car? It wasn't a mechanical or horsepower advantage, but still one can't overlook the fact that it was a clear violation of the rules. Does the pitcher who puts Vaseline on the brim of his hat to enhance his slider deserve the same punishment as the one who shoots up with HGH?
Knowingly or not he won the race with an advantage that broke the rules. His win will stand, however in many eyes it will have that glaring asterisk next to it. For fans that cheer for Stewart it was a bittersweet day as they have to defend why they cheer for what some are calling a cheater. Friesen is said at times to be impertinent, rash, volatile, and opinionated, but he's also a champion and a hell of a driver. Will this victory taint his legacy? Time will tell, for when he hits victory lane next he'll be met by either an enthusiastic applause or a flock of boo birds. This is one win that silenced 'the Shoe', as Stewart Friesen was unavailable for comment.
For DIRTcar it is apparent they failed the test of enforcing their rules no matter who visits victory lane. We're all human and to err is human, so along with others, I'm not so quick to jump on the 'down with DIRTcar' bandwagon. There is an opportunity to correct what majorities are calling a mistake allowing a tainted win to stand. Options such as smaller fuel cells to force pit stops instead of making them mandatory, a zero-tolerance policy for rule infractions, and maybe even a committee to hand down punishments for rule violations have been discussed on forums, in text, on Facebook, and via phone. You have everyone's attention DIRTcar, now's your chance to right your ship.
Common knowledge tells us Billy Decker won his 4th straight 358-modified event tying him at 5 all-time with Pete Bicknell. It also tells us that Rocky Warner thrilled the crowd winning his second straight Super DIRT Week Pro Stock race and Neal Williams was able to claim Sportsman glory on the mile. Common knowledge even tell us if you missed the hotness of Ms. Motorsports Karin Noelle there are photos to google over. What common knowledge doesn't tell us about is a retired street stock champion dusting off his helmet to take a crack at the Moody Mile before calling it a career once and for all.
Rick Achzet drove the familiar School House Pools 3A in the Street Stock division which morphed into the Pro Stocks at Fonda Speedway. Big Rick had earned himself two track titles, which came back to back in 1989 and 1990. He sits 7th on the Pro Stock all time win list at the track of champions where he frequently duked it out with guys like Phlan Hart, Dan Ballard, Tim French, Eric Arell, and others. That's the easy stuff found in record books, but what made the senior statesman of full fender racing try the mile?
"Everybody wants to try it (Syracuse) once. I was happy to get the chance to get there and go around the place just once" said Achzet. For a guy who hasn't wheeled much since the 90s he has kept quite busy helping the likes of Nick Stone, Rocky Warner, and Chucky Dumblewski who have all won Pro Stock races. "I was offered the chance by the Dumblewski family. They spent a lot of money and did a lot of work so Chuck and I could run Super DIRT Week and I have to thank them a lot for that" Achzet continued.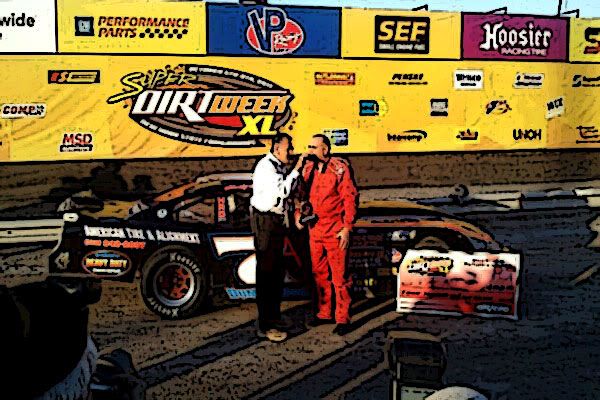 Big Rick mentioned his first laps on the mile were so fast he was shaking along with the car, as he laid down some pretty quick times. "I knew if I got the pole I had a shot at winning" Achzet said. For an old metal-wheeling warrior he talked like a driver who grabbed hold of his youth again, cranking it up a notch to win a coveted eagle. "Once I got used to the track I felt right at home. I wasn't scared one bit with the speed," he continued, as he was explaining his first driving experience at the mile.
It may have been a mere Futures race win to some, but to Rick Achzet it was a special time fulfilling a life-long dream to turn laps at the Moody Mile. Rick's no rookie however, as he won not only in full fender racing, but he also has a handful of Sportsman victories as well before he hung up his racing shoes. When asked if he may do it again he said with a chuckle "I could do it again and compete with these guys. They got nothing on me, and I'm just an old man." As for his relationship with his young counterpart the Dumblewski family are very appreciative that Rick helps guide and nurture Chucky who has the desire to win.
As for a comeback Rick Achzet said what any good driver with kids and a family would say; "if someone wants to sponsor me and put me in a car I'd try it, you never know!" For a humble Street Stock slash Pro Stock pioneer he was modest about how he wants to be remembered, as his name was thrust back into the spotlight for possibly one final time. He said "I didn't do it for the glory or the money, I raced because I loved it. With my love of racing and my family working on the car it was a lot of fun, I hope people remember that about me." Kudos to you Mr. Achzet on a career well done.
In 1998 a 16-year-old kid put together his first story for AARN after covering a paved quarter-mile track in White Lake, NY called Kauneonga Speedway. Thirteen years later nobody expected him to have one of the fastest growing and most attended dirt races in the Northeast. Brett Deyo has many accomplishments, but his Short Track Super Nationals production has other promoters scratching their heads asking the same question, "how do we get 80 modified cars signed in for a race?!"
It started in 2006 as an alternative for guys sitting home from Super DIRT Week. The Short Track Nats was held at Afton Speedway that year and saw 51 modifieds attempt qualifying. Mike Ricci took home over $4,000 after winning the 50-lapper. Not too shabby for a race that according to Brett Deyo was "kind of unknown." Deyo spoke about why he started this annual event saying, "Honestly Hazer I was at Super DIRT Week looking around at what you need to race there. You need to spend a lot of money no doubt about it."
Deyo's reasons for starting the race were pure and also simple. "I was surprised at how many good race car drivers were not racing Super DIRT Week. There were plenty of great drivers at Syracuse, but there were so many others not even in the stands, just sitting at home" Brett said about his race, which runs during prime Super DIRT Week time. Technically he's not going head to head with Super DIRT Week because Brett isn't looking for the Deckers, the Hearns, or the Sheppards. He's looking for the guys sitting home that have no plans on running Syracuse to come, race 50 laps, and possibly walk away with a winner's purse that has grown to top $7,000.
"I always admired Alex Friesen and the way he promoted and respected his ideas, so I wanted to get a race going" said Deyo. With a history that includes handicapping, PR, promotion, and writing it isn't a surprise Brett has a successful race. It may not be in big bright lights, but let's face facts; the Short Track Super Nationals had nearly 80 modifieds in 2011. That is a higher car count than any other track, race, or promoter has seen whether it be a DIRTcar series event, RoC event, or simply a high dollar race.
When asked how it felt to know he had the kind of driver support where 80 modifieds showed up to race at his production he simply said "I was shocked." There are more awards and contingencies than one can remember, a roll-the-dice gambler's prize worth $1,500, and a pretty stylin' trophy that goes along with winning the race. Let's not forget Andrew Harpell isn't complaining at all since the 2011 event had boasted the most people in attendance at a Five Mile Point race since he took over as promoter.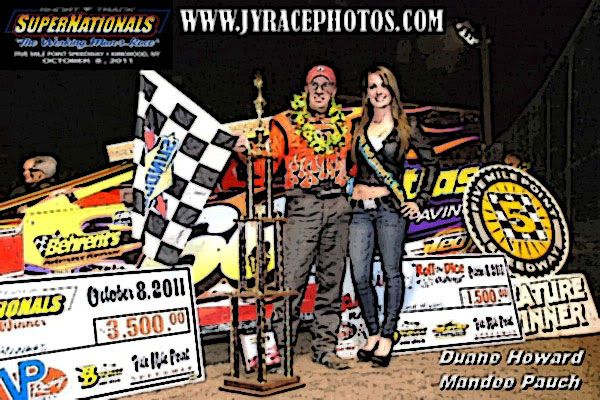 Duane Howard won the 2011 running of the Nats taking home over seven grand, which isn't bad for 50 laps. With Super DIRT Week gaining most of the attention the Short Track Nationals gains the cars, after all it has out drawn the Moody Mile event every year since being at Five Mile. As a fan of Super DIRT Week it's time to make a trip to this event which has become a must see. Drivers from Canada, NY, NJ, and PA make the trip to compete. It's sufficed to say the young fella with a degree in Communications and Journalism has created one of the biggest modified races of the season anywhere on dirt.
A Super event titled XL deserved a little more Observation and Reporting. This time around we learned that $12,000-plus per gallon of fuel is damn expensive; you can teach an old dog new tricks; and dirt week isn't the only thing "super" in October. Next month back to basics, a normal-sized article, and the search begins for Miss Overreact and Rave. Until then look for big daddy to observe and report.
***Photos in this story were edited for the purpose of the story. Credit is still given to the original photographers.***